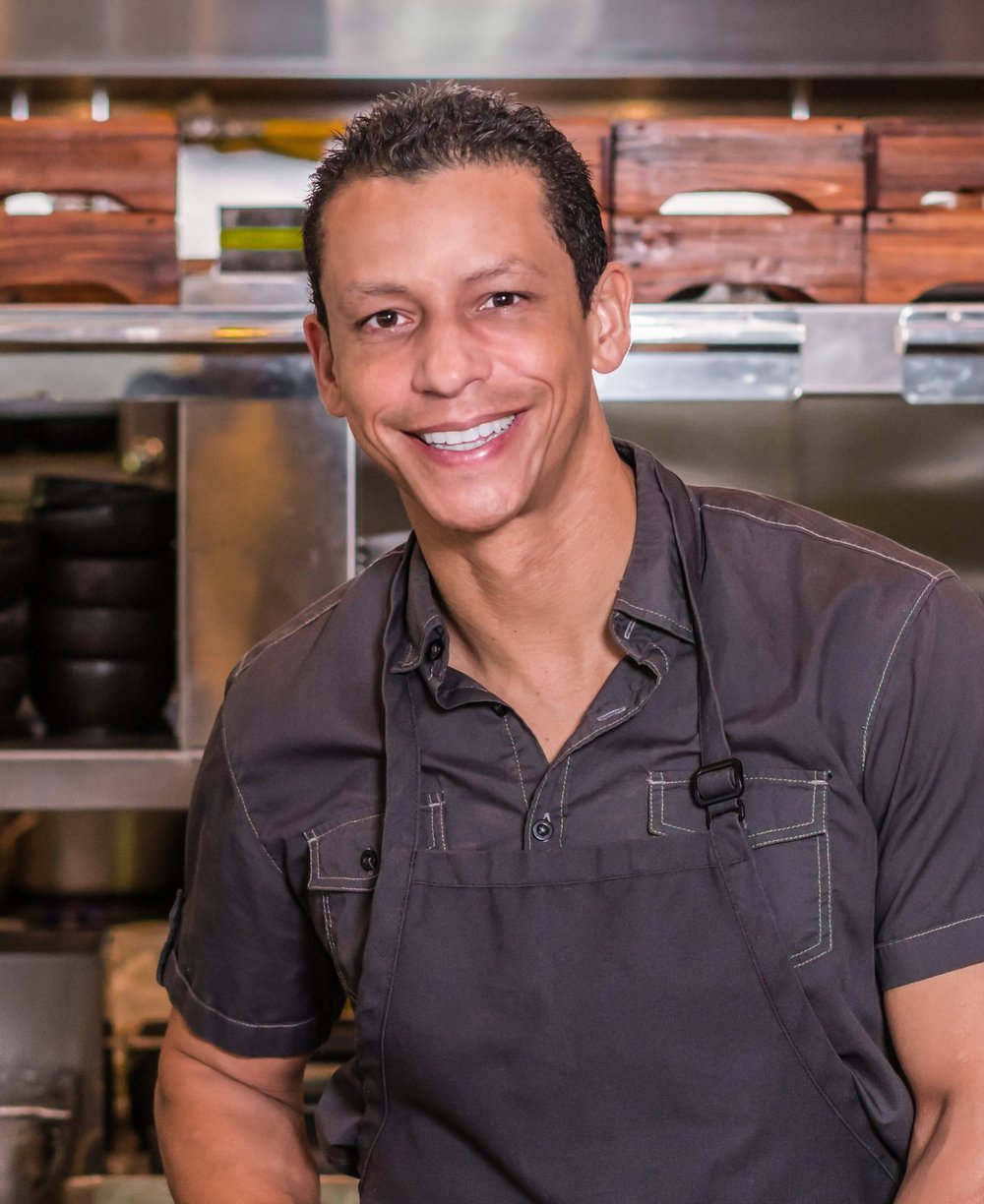 D. BRANDON WALKER
Executive Chef
As a native Angeleno and avid sports enthusiast, Derek Brandon Walker grew up in Los Angeles, where he soaked up the diverse ethnic food traditions and cuisine that the city has to offer, along with the sun and surf. His interest in cooking began after traveling abroad to Asia and South America. There, the food burst with flavors that spurred his creativity and lead to his enrollment at the culinary arts program at Trade Tech with additional training at the New School of Cooking, The Gourmandise School for pastry and Glendale college for restaurant management.
Utilizing classical French cooking techniques, Walker specializes in folding hints of fresh Asian and Latin flavors into his dishes. He selects ingredients that complement each other and reveal themselves to the palate in layers, transforming the dining experience into an exotic culinary journey. He has worked alongside some of the very best culinary minds, including Ludo Lefebvre, Jackie Keller, Jenny Cook, Noah Rosen, Wayne Elias, Sherry Yard, and Chris Blobaum.
Walker formerly fulfilled a dual role at the St. Joseph Center in Venice, California. He was the Program Manager and instructor of the Culinary Training Program, a program that provides training for individuals with multiple barriers to employment. D. Brandon gives back to his community with hopes of repopulating the country's kitchens with truly extraordinary chefs. He also served as the Executive Chef at Bread & Roses Café, the off-site establishment where they feed the homeless with gourmet meals, five days a week. Additionally, he has a full-service catering company, and recently was crowned CHOPPED CHAMPION on The Food Network. His other media credits include Evan Kleinman's Good Food, Culinary Journey, CNN, KTLA News, ABC News, and countless newspapers, including The Los Angeles Times and Chicago Tribune, website blogs and other publications, not to mention his catering company's extensive celebrity clientele. Walker also served as personal chef to hip-hop mogul Russell Simmons and Academy Award winner Helen Hunt.
Walker is currently working on a book, based on his philosophy of improvisational cooking which was developed during his years of utilizing random donations to produce cohesive dishes. Seeking to take cooks of all levels on a transformative journey to what he calls "off recipe", the chef focuses on proportion, method, locality and products which people already have on hand in their pantries or freezers. He hopes to contribute proceeds from the book to feeding the homeless.
In the 1990's, L.A. Models represented Walker. He worked as a model in Los Angeles, New York and Asia, featured in editorials, runway shows and national campaigns, including commercials for Levi's and Budweiser.
In his downtime, he plays guitar and sings with his band Fret a Stare, spends time with his family and enjoys all aspects of sports. An athlete his entire life, he continues to surf, play beach volleyball and compete in marathons and triathlons. His healthy lifestyle greatly influences his food and overall philosophy on living. He is fluent in French and his favorite football team is the Pittsburgh Steelers.
Walker lives in Los Angeles with his wife and their three daughters.
JILL DAVIE
Executive Chef
A graduate of the Culinary Institute of America and UC Santa Cruz, Chef Jill Davie has won numerous accolades. Named a Top Ten Student of the Year at the CIA and presented with the Food and Wine Baby Chef award by Julia Child just out of school, Chef Davie was already rapidly on her way to a stellar career.
After working at LuLu in San Francisco, Chef Davie secured a position as Chef de Cuisine at Rockenwagner in Santa Monica, California. During her three years working for Hans Rockenwagner, Chef Davie traveled to Munich, Germany where she was afforded the opportunity to cook for the renowned chef Paul Bocuse. She was featured in such publications as Freundin in Germany, Art Culinaire, Food Arts, and Gourmet magazine. Before moving on to a successful seven years at Josie restaurant in Santa Monica, Chef Davie traveled to Chicago to stage at Tru and Charlie Trotter's.
Since it's inception in 2001 to 2008, Chef Davie worked side by side with Chef Josie Le Balch at her eponymous, award-winning restaurant. The pairing of Chef Davie's culinary style, her passionate devotion to local and seasonal ingredients and Josie Le Balch's rustic approach lofted their restaurant to the forefront of the fine dining scene in Los Angeles. They have received numerous awards and recognition, including The Best of The Best 2002 by S. Irene Virbila, rated a Top 10 Restaurant by Patric Kuh of Los Angeles Magazine, USA Today's Top New Restaurant Picks and as one of the Best New Restaurants, 2001 by Esquire critic John Mariani. In December of 2004, Angeleno magazine featured an article on Chef Davie and praised her for her food and hospitality finesse and "snap-cracker wit." In 2006, Jill was chosen by StarChefs.com as a "Rising Star", "representing the vanguard of the contemporary dining scene in America." Establishing Venice Beach's premier and most successful local wine bar and eatery, Venice Beach Wines, was her recent endeavor.
Chef Davie has extensive experience as a television personality having been featured on Recipe T.V., Food Network's "Ultimate Restaurants," "Date Plate," "Party Starters," "Challenge," in which she bested four other chefs and took home the title "Hot Chef," "Next Iron Chef," and "Extreme Chef". For two years she was the co-host of "Shopping with Chefs" and was tapped as the "Smart Tip Expert" for the Fine Living Channel. In 2012, she competed on the ABC's syndicated pilot "Time Machine Chef". Within that year she was a featured chef on the on-line channel "Everyday Health" for "Recipe Rehab".
Since January 2005, Jill has represented Sunkist as their official spokesperson and Lemon Lady®. She has been featured on numerous radio shows, in print articles and a whirlwind series of television appearances throughout the U.S., Canada, and Korea. As a fifth generation Californian, it's a natural fit that Jill travels both in and out of the country promoting California citrus.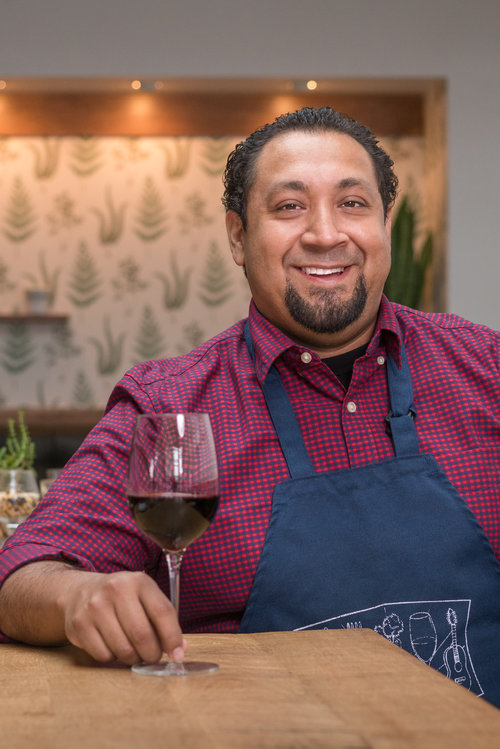 JORGE RIVAS
Chef De Cuisine
Chef Jorge Rivas was born and raised in Los Angeles, California. Jorge's love affair with food developed while watching his mother in the kitchen, listening to music, and enjoying the experience of food gathering loved ones together for family events. He was undoubtedly influenced by his Salvadorian roots and also inspired by the constant exposure to Asian, Latin, and Soul Food that surrounded him in and out of his home. Not only did it develop Chef Jorge's appreciation for the art of cooking, but also deepened his desire to pursue a career in culinary arts. With a hunger to create, Chef Jorge was determined to develop his craft and replicate the at-home-feel-good food experience.
Jorge's training began under mentor-turned-partner, Chef D Brandon Walker, at the St. Joseph's Center in Venice, California, where he studied traditional French techniques and cuisine. Working alongside Chef D Brandon and Jorge went on to orchestrate several "pop ups" and private catering events for upscale clientele. Training also included working with renowned Chef Wolfgang Puck at Spago in Beverly Hills which refined Jorge's fine dinning methods and solidified his love for the process of creating an ultimate food experience.
From 2010 to 2015, Chef Jorge traveled and cooked abroad in countries such as Singapore, Spain, Mexico, France, Malaysia, and Thailand and simultaneously worked as the Executive Chef for Blue Plate Restaurant Group in Santa Monica, California. He led teams in executing three different concepts at four locations: café comfort food, New England-style seafood, and coastal-style Mexican food. After each trip, Jorge shared newly developed profiles that added a fresh new flavor to the Blue Plate Group.
Jorge worked for the Los Angeles Times The Taste, and had the pleasure of working along side some of culinary's renowned chefs such as Thomas Keller, Susan Feniger, Roy Choi, Ludo Lefebvre, and Michael Cimarusti.
When not in the kitchen, you can find Chef Jorge at a concert, traveling the world or hosting a backyard boogie, cooking for family and friends.